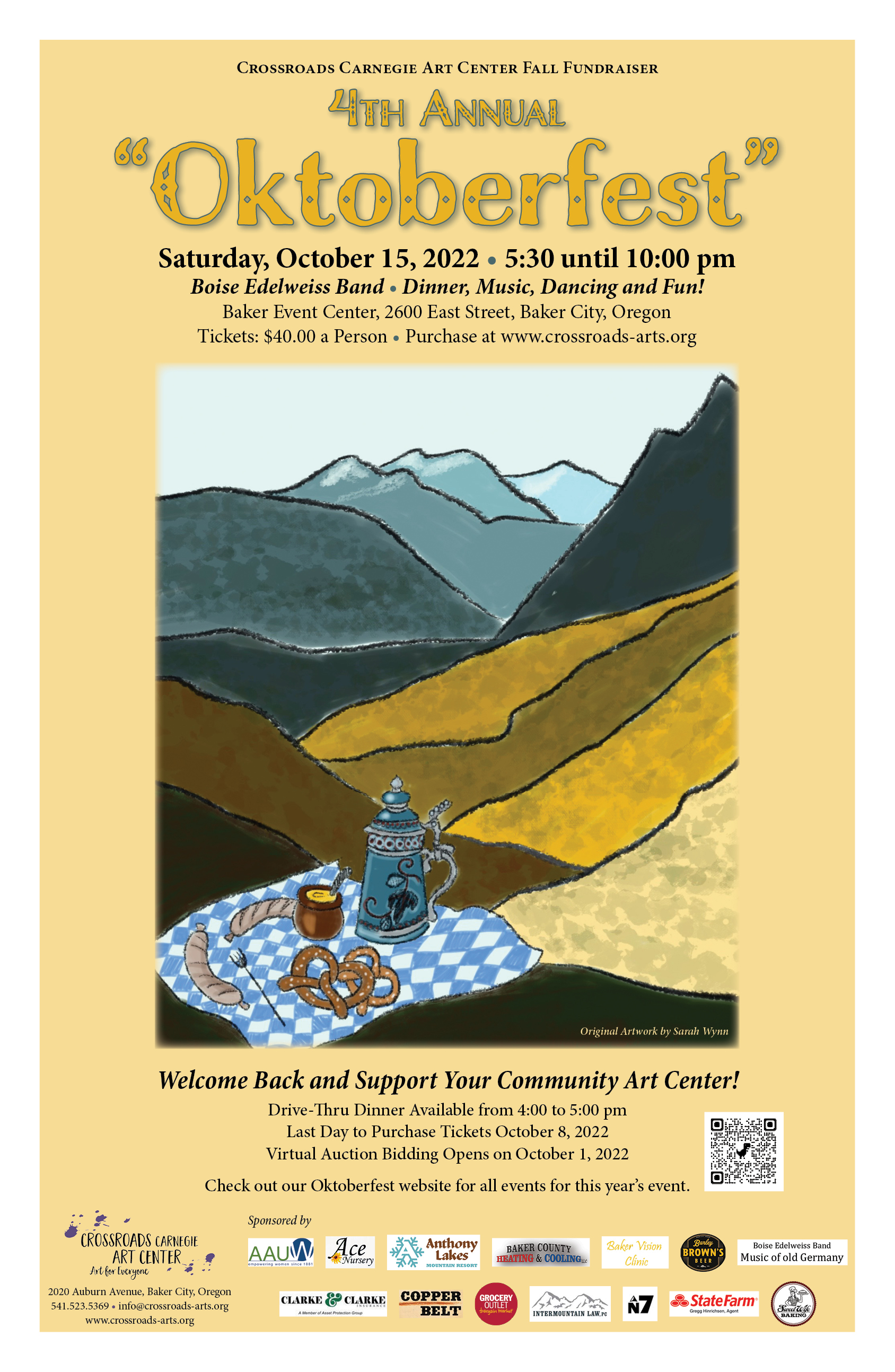 Sep 13, 2022
2022 Oktoberfest- October 15, 2022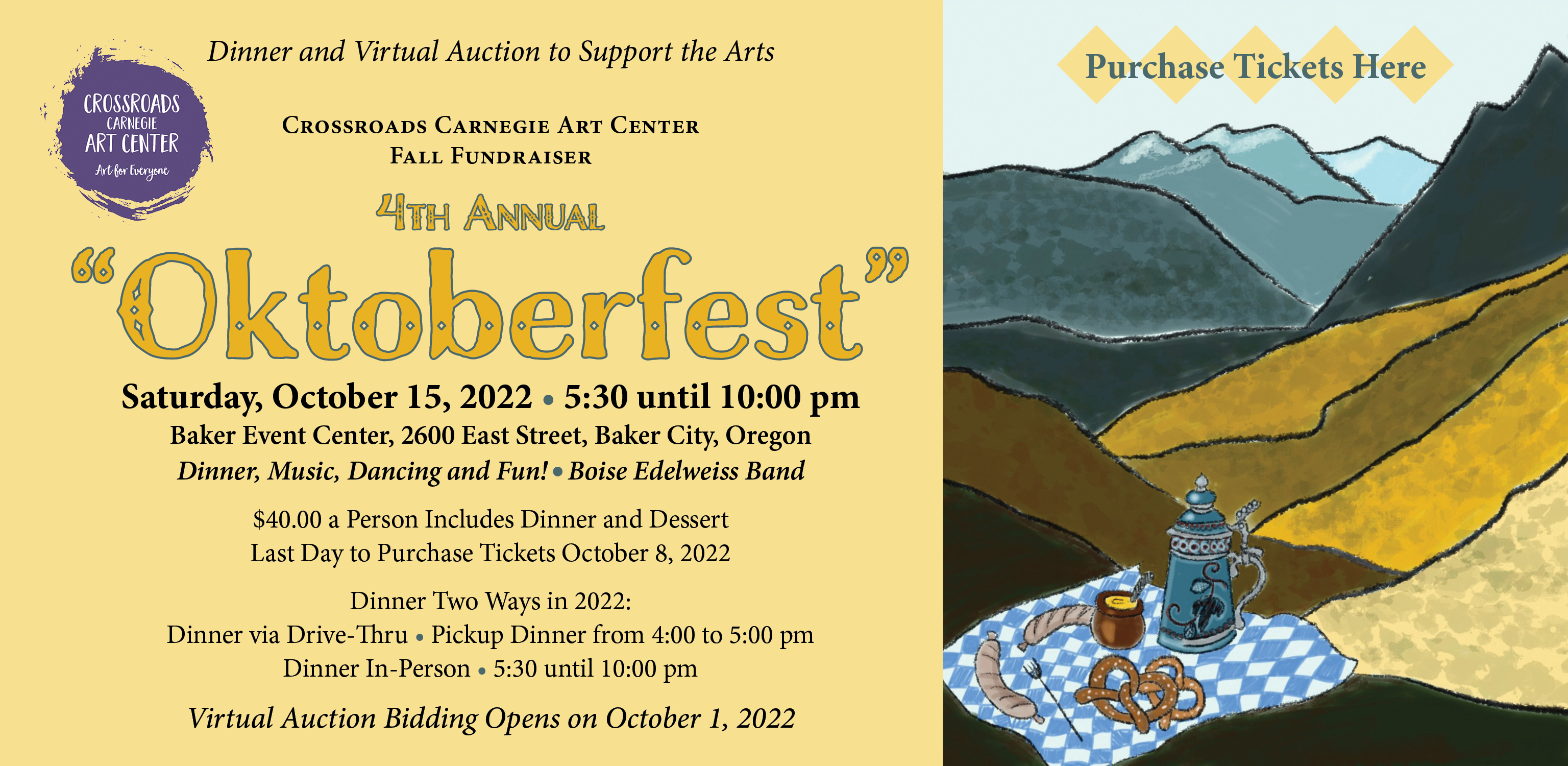 Schedule of Events for Crossroads Saturday October 15th Dinner
Baker Event Center 2600 East St, Baker City, OR
Two Dinner Options to fit any schedule and lifestyle and support Crossroads mission!
4-5 Pm Drive Thru Dinner- Just like the last two years you can get your ticket online at choose the Drive Thru Option. Crossroads staff will bring dinner to your car in our new drive thru door at the Event Center. We will have parking spots marked for you.
5:30 PM- 10:00 PM- In Person Dinner, Music and Fun!
Order your tickets online and enjoy dinner, drinks and music! We welcome back the Boise Edelweiss Band with great music of Old Germany. Dance and celebrate the harvest!

Beer from Barley Brown's, Wine from Copper Belt Winery, Beer and Cider by North 7 Brewing. Come and gather together again!
Crossroads Virtual Oktoberfest Virtual Auction will go live on October 1st at https://one.bidpal.net/22oktoberfest/welcome
Before October 1st Auction Packages are in a Preview Mode so you can check out the wonderful items as we add more items all the time! You can purchase Oktoberfest "Merch" and make donations to Crossroads beloved programs. Bid all night long at Oktoberfest using your phone! Starting October 1st auction items are on display at Crossroads on the stage- so check out all the good stuff!
Have too much fun at Oktoberfest? That's okay! We keep the auction open all day October 16th closing at 9 pm. If you are the highest bidder your card will be charged! Voila!
Auction Item pick up starts at 10:00 am on MONDAY OCTOBER 17th at Crossroads in the DOWNSTAIRS Studio! We will be there waiting for you all day till 5 pm.
OTHER Oktoberfest Events on Saturday October 15th during the day to support some wonderful community projects!
We are excited to welcome a new event to Oktoberfest!
The "Autumn"obile Car and Motorcycle Show in Geiser Pollman Park.
Starting at 10 am wandering thru the fall leaves and beautiful cars and bikes and help raise funds for Penelope Simmons efforts to raise funds for a New Baker City Splash Pad in Central Park. This is Penelope's Girl Scount Gold Award Project! To register go to the Oktoberfest Site:
https://one.bidpal.net/22oktoberfest/welcome
Click Here to get the registration form to bring your car or cycle to the event!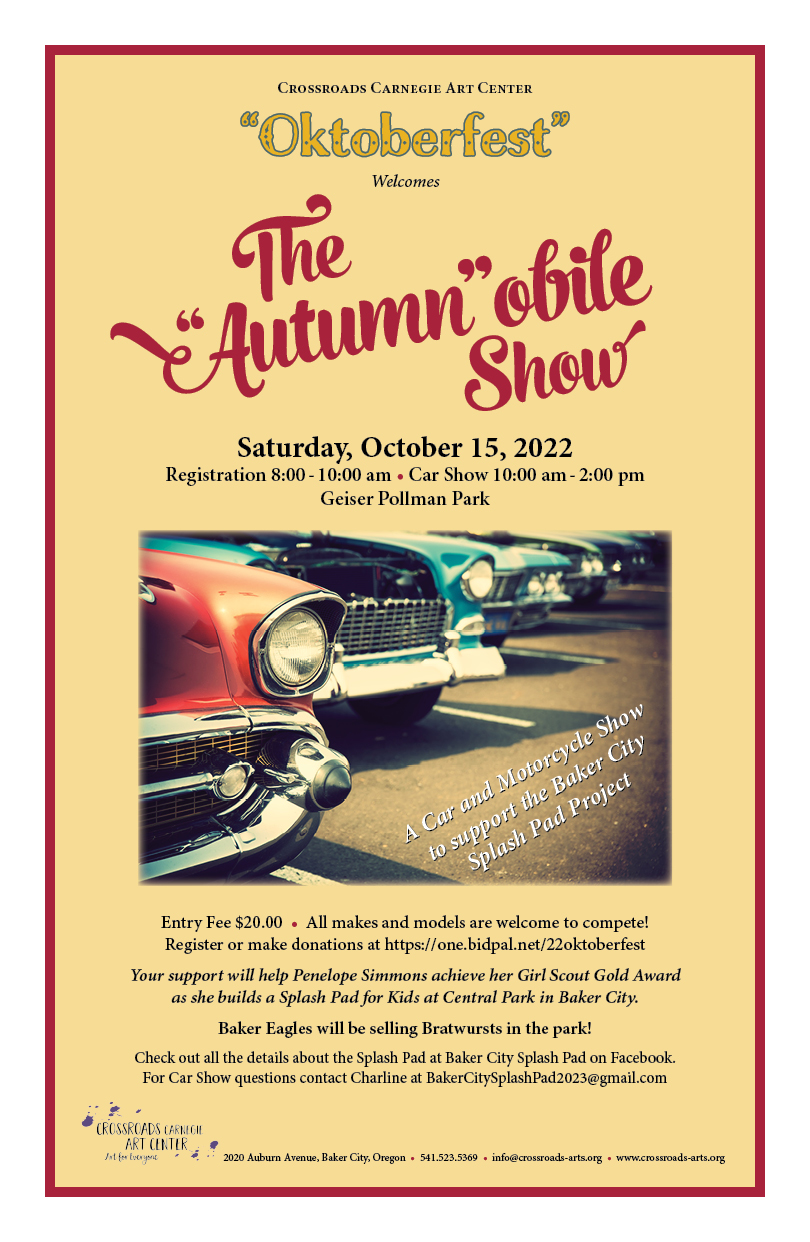 PLUS THERE IS MORE!!
Crossroads is finalizing the details for the following events that have committed to be part of Oktoberfest this year!
Baker High School Cross Country will do their 2nd Annual Potato Fun Run and Walk! Check back and we will post all the details soon! Check out a photo from Last Year's Event!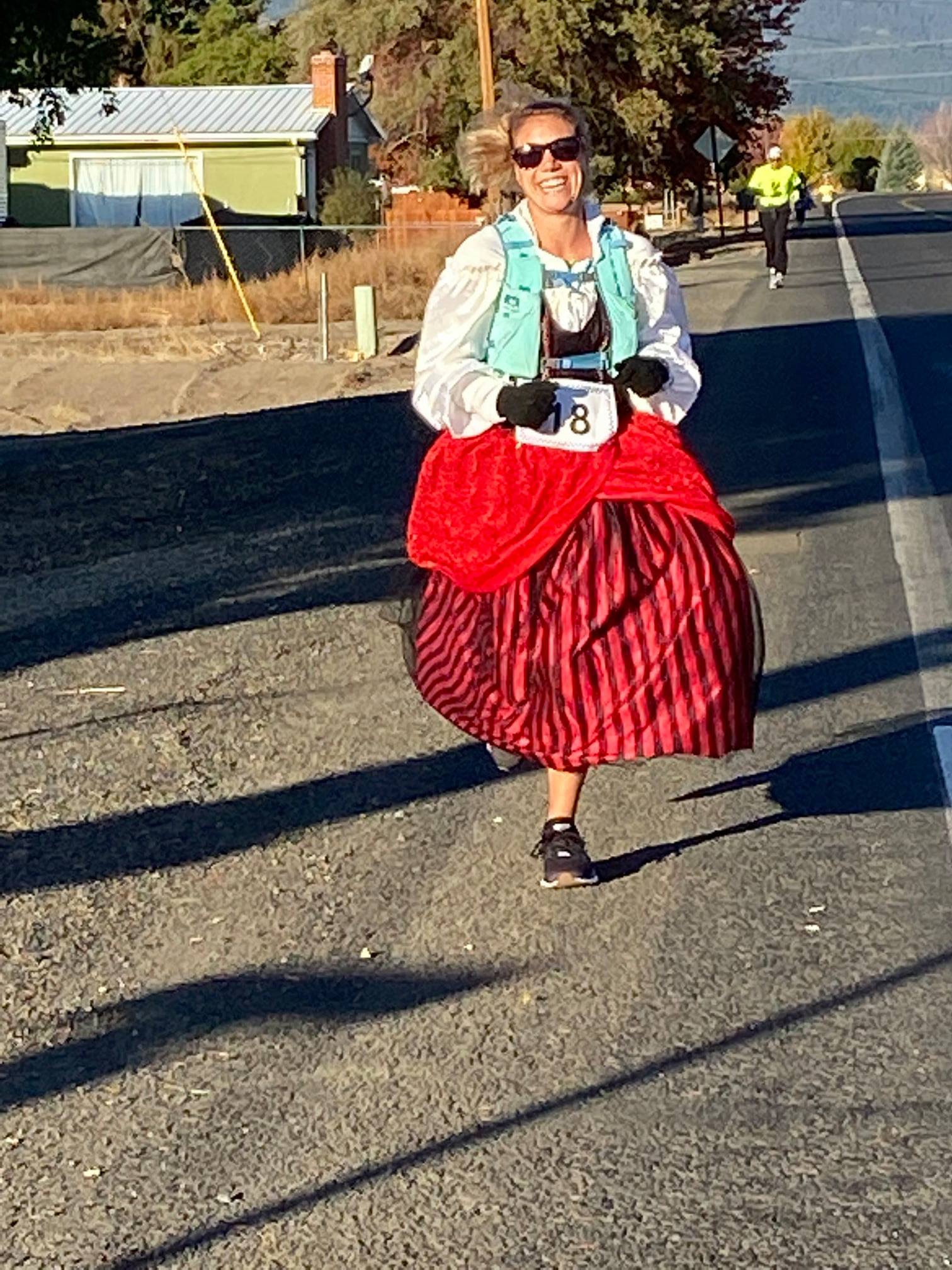 NEW THIS YEAR!
Details Coming Soon!
Friends of Baker Heritage Musuem will be hosting the Great American Bake Sale to support the Natorium!

CASA Of Eastern Oregon will be having "Kindergarten" event where kids can come and play, games and fun!
CROSSROADS OKTOBERFEST SPONSORS!
Baker Vision Clinic
Baker County Heating and Cooling
Intermountain Law P.C
Clarke and Clarke Insurance
AAUW- Baker City Branch and Ontario Satellite
State Farm/Gregg Hinrichsen
Grocery Outlet
Ace Nursery
Anthony Lakes Mountain Resort
Barley Browns
N7 Brewing
Copper Belt Winery
Sweet Wife Baking
Boise Edelweiss Band
Jim & Mary Tomlinson
Terry Strehlou
Luann and Ed Cook
Umpqua Bank
C Party of 5
Baker City Realty
Rob & Dianne Ellingson
Dennis & Terri Axness
Scorpio International
Yervasi Law P.C.
J Tabor Jewelers
Hearts and Petals