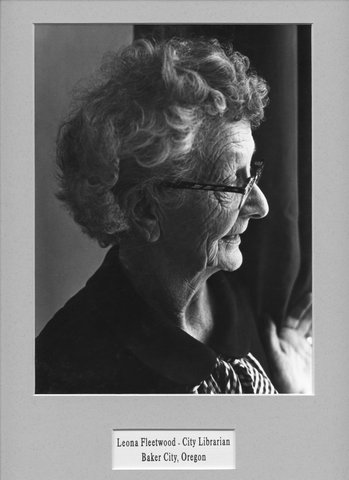 Jun 2, 2023
60 Stories for 60 Years
To start Crossroads storytelling process for our 60th Year- 60 Stories Coordinator and Board Member Kathleen Chaves wanted to start with lady who started it all-Leona Fleetwood. Here is her story!
Leona Shepherd Fleetwood
Woman of Vision
What better story to start off Crossroads' 60th anniversary than the story about a woman who had a vision and the passion to lead a small group of like-minded volunteers to create the organization we now call "Crossroads Carnegie Arts Center"? Her birth name was Leona Shepherd, and though she was not from Baker County, nearly everyone in Baker County knew of her.
In 2002 when I embarked on raising the money to renovate the Carnegie Library to become the permanent home of the Crossroads Art Center, a good friend of Leona's offered to meet with me to share memories of her. Betty Kuhl, the founder of Betty's Books, invited me into her home to share her treasured scrapbook filled with paper clippings. Among them were stories of Leona Shepherd Fleetwood and her friends starting The Oregon Trail Arts Association in 1963 which later took the name of Crossroads Creative and Performing Arts Center. Not being from Baker City, I had never heard of Leona. Having previously been told that Crossroads began in 1971, I had so many questions!
Betty and I spent the afternoon talking about her "particularly good friend" and how she came to live in Baker City. I was eager to learn about Leona and the courage she demonstrated at a time when single women just didn't pursue higher education and then venture out, alone, across the country to establish a career in what most considered the wild, wild west!
Leona was born in 1897 in St. Louis, Missouri. In 1919, she graduated magna cum laude from the University of Washington in St. Louis, where she attended on a full scholarship. Afterward, she traveled out to Warren, Idaho to teach school. During a visit with her aunt and "illustrious" Uncle - Mr. Simeon Childs Richardson, who was the last Mayor of Greenhorn, Oregon's smallest incorporated city and the highest at 6,300 feet - she decided to take teaching jobs in one-room schools in Burnt River and at the Bonanza (Gold) Mine.
Leona lived with the Richardsons in Greenhorn, what is now considered a ghost town. During the long winters, she would ski to the Bonanza mine on Monday mornings and stay at the school all week, skiing home on Friday night. This was only the beginning of how Leona would impact the lives of children and families in rural Oregon communities.
Betty shared that Leona had loved education, books, and the west. In pursuit of her dream to become a librarian, she took her next courageous step of moving to California (No! Say it isn't so! 😊), enrolling at the University of Southern California (USC), taking classes at night and working at the L.A. Public Library during the day. In 1924, she completed her certification and decided to return to Eastern Oregon where she taught in Burnt River. After boarding with the Fleetwood family, Leona and the Fleetwood's son, Oroville, became friends and fell in love. They were married in 1926 in Huntington, Oregon.
Over the next few years, they lived in Los Angeles and in Oregon finding work during the Depression. By 1935, they were living in Baker City with their daughter, Jo (7), and son, Jean (6). Leona began working part-time as the Baker County Public Library's Children's Librarian. The Children's Library occupied the entire lower floor of the Carnegie Library building, where Leona was able to combine her love of books, the arts, and children.
Betty recalled, "To my children and hundreds of other Baker children, she will always be remembered as the 'puppet lady'. She handmade her puppets, lovingly constructing them down to the last detail. Her scripts were of her own invention, but never memorized. She would weave the tale according to the audience of the day, often mentioning some child in the crowd who needed a little extra attention. These shows were given on Saturday mornings on the stage in the Children's Library. She usually played to standing room only."
My husband, Richard Chaves, has fond memories of Leona and her puppets. He remembers looking forward to going to her puppet shows every weekend from about the age of five. He enjoyed her stories and was captivated by how she could operate multiple marionette puppets at once, speaking all of the voices, and performing the whole puppet show by herself! He remembers sitting on the floor with a room full of kids enjoying the shows together.
"I think my mom shared with Leona how fascinated I was with the puppets, so Leona offered to make a puppet with me. I remember I went to their tiny, modest, comfortable house in South Baker every Saturday to make my own puppet with her from scratch. I learned as we made each piece that inside the marionette were small bags of sand that, when sewn together, created the flexible bends and movements. After completing the inside, we made the outfit together."
"Looking back, I'm amazed that I was the only one at her house making a puppet! She took the time to make a puppet with me simply because I was so interested in puppets! She was so talented, kind, and caring to everyone around her. She was a woman who shared her talents generously and gave her life to the children and the community."
Barbara Kuhl (Betty's daughter) vividly remembered the puppet shows and Leona.
She shared with her sister Carolyn Kulog, "Children of my generation were extremely fortunate to have Leona Fleetwood as the Children's Librarian because she produced the most wonderful, highly dramatic, puppet shows with marionette puppets on the little stage downstairs. The room was darkened, and we sat on benches close to the lighted stage. Leona had quite a dramatic flair and used a wide range of voices, but most memorable to me was the witch, with the evil cackle. Sometimes scary, but always with a good ending. Beautiful puppets, princesses and princes, farmers, and animals. What a treat for children who had seldom seen a movie or live theater and never had seen a television! She made the stories in books come to life in such an exciting way."
Leona thoroughly enjoyed serving our community part-time, then full-time, as the Children's Librarian, then Head Librarian until 1960 when she retired. Since the beginning of the Baker Public Library in 1901 through 2022, Leona has been the second longest serving Librarian.
Leona may have retired from the library, but she never retired from serving our community! She continued being very active in leading or participating in a wide variety of causes to benefit the community through organizations such as the American Association of University Women (AAUW), in which she ran the annual book sale where Oroville drove around town collecting and delivering the books in his tiny pickup.
Betty Kuhl lovingly shared her memory of how Leona worked with her to realize her dream of opening a bookstore. She surprised Betty the night before the grand opening of Betty's Books, presenting her with 100 construction paper bookmarks in which she had used her calligraphy and craft skills to create for Betty to put in each book she sold. She continued to make the bookmarks for the entire first year, and the tradition of providing a construction paper bookmark continues today.
Leona and Oroville could always be counted on for a generous contribution to any worthy cause. Leona liked to say, "Others have money for stocking up, but my money is for rolling over." Among some of the recipients of their time and money were the AAUW, Oregon Trial (now Heritage) Museum, Community Concerts, Girl Scouts, Alcohol and Drug Council, and American Field Service.
According to Betty, "Her favorite project was the Crossroads Art Center. She liked to give credit for the idea to the Cultural Arts Committee of AAUW, but Leona did most of the leg work herself." In 1963, the Oregon Trail Arts Association met in the Public Library and elected its officers for the coming year. Mrs. Leona Fleetwood was elected the Chair.
In 1970 when the new library opened in its current location on Resort Street, The Oregon Arts Council (OAC), its new name, approached Baker City about occupying the Carnegie building. In 1971, when the city approved the request, the OAC moved in and filed for non-profit status.
Discovering another entity had already filed under the OAC, they held a contest to change the name. They chose Crossroads Creative and Performing Arts Center. Crossroads' role was defined, and continues to be defined, as "A reflection of its community and an educational or sponsoring body…important to the business community and schools."
In 1972, membership was up to 555. Program offerings and theatrical productions thrived. Over the next few years, more than 40 popular plays were performed by "The Crossroads Players", including Fiddler on the Roof, The Odd Couple, On Golden Pond, Once Upon a Mattress, Alice in Wonderland, and Of Mice and Men. Leona acted in several of the first plays, and in several children's plays.
By August 1979, over 5,000 people had visited Crossroads Arts Center. In 1983, Crossroads was recognized as almost leading the State in per capita membership in local art organizations. Leona's vision was flourishing!
Unfortunately, by 1983 an assessment of the building revealed that the Carnegie was in need of extensive structural repairs and Crossroads debts were rising due to exorbitant heating bills. By August 1984 Crossroads could no longer afford to be in the Carnegie building. The doors were closed until funds were raised to reopen. However, by 1987 the utility bills had risen to $5,000 per month, and the doors closed permanently in 1988.
The Crossroads Players theater group continued performing throughout the community keeping the Crossroads non-profit organization alive. In 1996, Crossroads Arts Center reopened in a rented location at 1901 Main Street. In 2002, Leona's spirit rose again in the Board of Directors who had a vision of renovating the Carnegie Library to be the permanent home of Crossroads Arts Center once again.
After six years of raising funds, in 2008 Crossroads reopened its doors to the public in the renovated Carnegie Library building, celebrating with a full weekend of local kids' organizations and performance groups entertaining the community.
Fortunately, Leona never saw the doors closing on her beloved Carnegie Library. In 1983, at the age of 86, Leona passed on to reunite with Oroville.
Despite Leona's passing from this world, I know that her spirit has continued to live on at Crossroads through every teacher, student, member, volunteer, and donor who has kept her vision alive of how the arts could inspire and uplift our community. I felt her courage and determination in every person I worked with to raise the funding to return the art center to its original home in the Caregie. I feel her generosity of spirit in our Crossroads staff who provide a welcoming place for all who enter, participate, and contribute. I feel her strength and commitment impacting people of all ages and economic backgrounds in Crossroads' Director Ginger Savage who, like Leona, has spent her life volunteering and working tirelessly to make Baker County a great place to live. And, like Leona, Ginger has a kind and generous husband in Kerry, and teams of community partners and friends who understand and support Ginger's passion to make a difference for our community through the arts.
In celebration of Crossroads' 60th year, we hope that Leona's story has inspired you to want to support Crossroads and its mission for the next sixty years! In the fifty-nine interviews to follow, we will be hearing from members, artists, educators, students, volunteers, donors, partners, staff, and others about the difference that Crossroads has made in our community and in their lives.
If you would like to share your story, please contact Crossroads (541-523-5369) with your name, phone number, or email address and I will reach out to you.