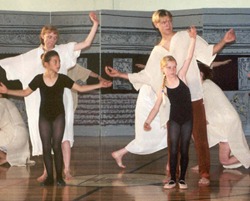 Aug 1, 2019
ArtSpeak
Sometimes great art programs are simple. Layers of complex staffing, artistic development and high costs don't qualify success. Sometimes easy works. At Crossroads Carnegie Art Center in Baker City, Oregon high in the mountains of Eastern Oregon we are part of amazing community. From our records and fading memories, the best we can figure is that Debbie Friedman started the ArtSpeak over 25 years ago. We find grant applications that were funded as early as 1989. "Miss Debbie" can't remember when it really started but that it just happened. Too many kids could not take her ballet class because their families could not afford it. Too many kids couldn't participate because transportation away from school was too difficult. She wanted to help kids have access to the arts when they could not afford it. Crossroads, then a struggling small rural town art center did not have a scholarship fund and the ability to pay for kids to take class. They needed to keep the heat and lights on for all their programs There is no database of statistic to track these children. There are no numbers of how their grades improved or that they were able to graduate from high school. All those trappings that make what most people think of as a successful program so top heavy and financially cumbersome that the kids get lost. What we do know is that "Miss Debbie" in her over twenty five years --has made a difference. She has had adults stop her at community events and tell her she helped. Debbie, who teaches ballet, teaches more. She teaches them to relax, deep breathing and to always move their bodies. To be proud of themselves, to value who they are. Debbie, who took what was at first volunteer work, to being paid a small teacher stipend became so respected for her work she was asked to be a counselor for New Directions Northwest. She now works with young womenkids who are trying to beat their addictions and learn to care for themselves and their babies. She brings "her ladies" to Crossroads for stretch and basic ballet as time allows. We hear her message of "liking your yourself" and stretching; keep yourself flexible and how to calm yourself in a world of chaos. She has over the years done crafts, quilting, theatre; you name it Miss Debbie has made the arts accessible to the invisible. She has asked the amazing Paul Hoelscher to help her. Paul, a superlative painter, with a kind and gentle spirit has actually spearheaded most of the ArtSpeak work for the last five years. He works wherever there is need and as we have the funding. So long is the list for kids to be involved in ArtSpeak that most students get to come to class once a week for two hours. With Paul they can paint, draw or do ceramics. Currently Paul works with about 40 students including home school children, all in afterschool programs. Since 2008, Paul has moved the program for Grades 4-6 here at Crossroads as they are a few blocks away. It also allows these older children to experience coming to the art center including our art gallery.
Our Goals
We can only expand ArtSpeak as funding allows and as teachers come forward. ArtSpeak works with students when they need the help-after school. We dream of a day when all children can take free art classes in our community.
What We're Doing
In all these years ArtSpeak has never changed. Crossroads works to get grant funding, usually $4,000.00 a year, and we pay teachers to go teach "at risk" kids art. Those kids are referred to the program by the school counselor. We never know 'why they are sent to the program' it is not our place. It is our place to give kids that are battered and broken an oasis to be creative. We have network of supporter who help with supplies, who offer up snacks and moral support.