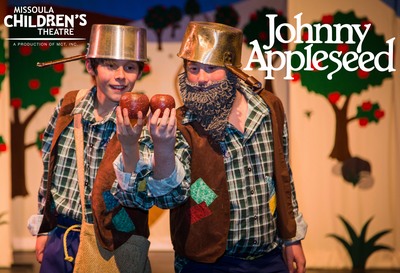 Jul 6, 2021
Missoula Children's Theatre
Crossroads Carnegie Art Center
Welcome you Back
to another season of Missoula Children's Theatre in Baker City.
Johnny Appleseed
Friday July 9th at 6:00 PM
Saturday July 10th at 3:00 PM
$5.00 for adults. Youth 12 and under get in free with a paid adult
Baker High School Auditorium
They say an apple never falls far from the tree, and we have Johnny and his good pals, the Apple Seeds, to thank for an ample abundance of apple trees! Johnny and his little buddies traveled across the land on foot, made friends with all kinds of people and animals, and slept under the twinkling stars. Their delicious, heartwarming adventures yielded orchards full of juicy, delectable fruit that took a crunchy bite out of hungry tummies across the west. Even a grumbly wolf is won over by the sweet taste of the apples and the kindness of friends. The tale of JOHNNY APPLESEED is a tasty reminder that kindness is at the core of friendship.