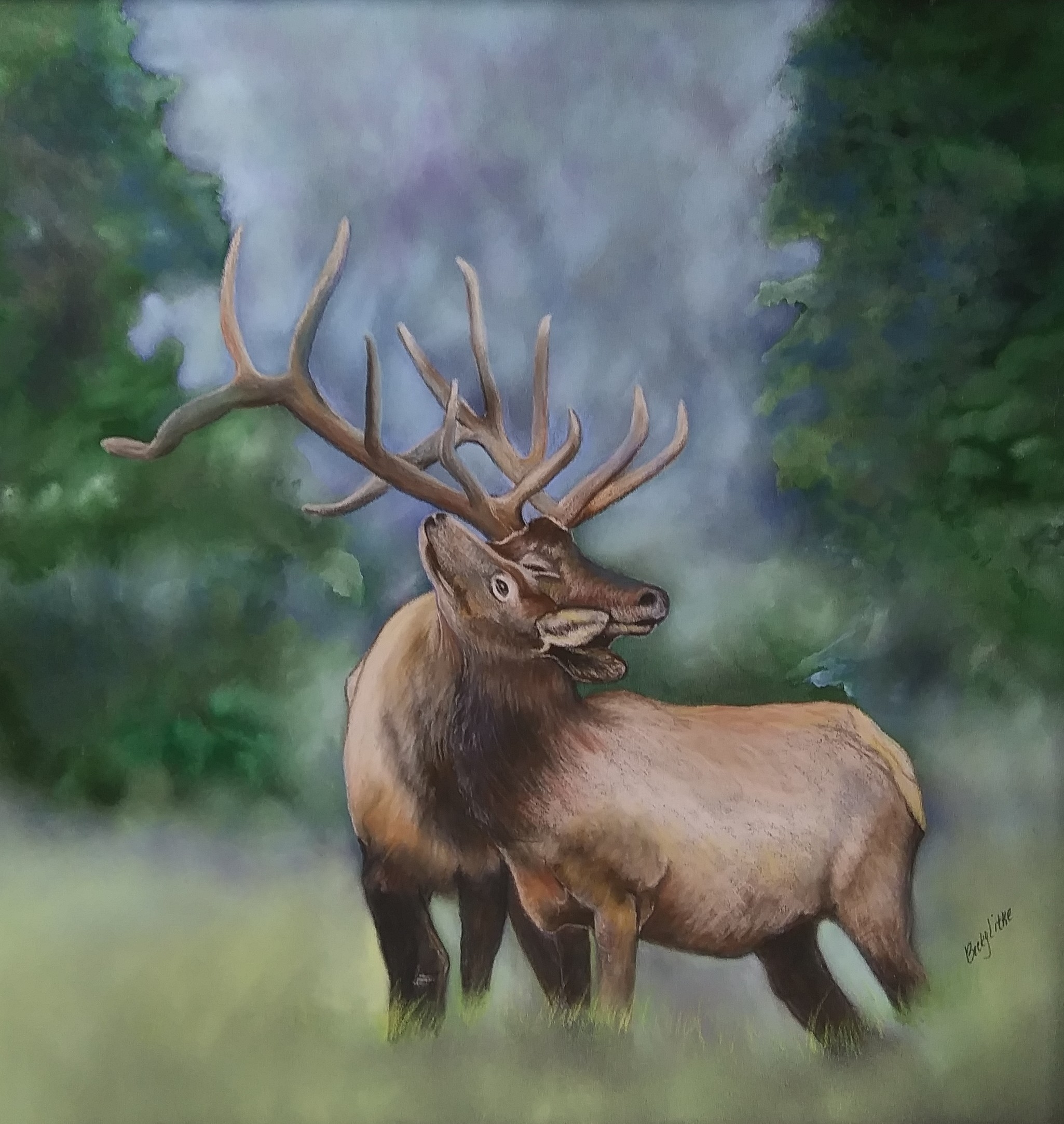 Apr 19, 2020
Rebecca Mancino Litke
My work the past 25 years reflects my interpretation of this beautiful area of Eastern Oregon. From an artist's perspective, this area of Oregon provides an inexhaustible abundance of wildlife, flowers & vistas to paint. As a hunter myself, I enjoy seeing wildlife in their natural setting.
The journey begins with the camera in the field photographing & sketching, and finally in the studio drawing the image on paper. Then with paint or chalk I recreate what I observed in nature.
To convey the beauty of my surroundings for others to enjoy is my personal fulfillment as an artist.
Rebecca Mancino Litke
QUAIL CROSSING STUDIO
Website - Artbybeckylitke.com
Studio & Gallery, 645 3rd St, Haines, Oregon, 97833
Ph 541-856-3554
E-mail rebeccalitkerl@gmail.com / beckylitke@rconnects.com

Becky was chosen as Featured Artist for the Crossroads Art Center Gala for 2015 Becky's painting has been chosen for the 2017 Holiday Card for Crossroads Art Center Artist was born and educated in Detroit Mi. Her serious interest in Art began in the late seventies.
A mostly self taught artist, but has studied under several well known artists and instructors. Artist resides in beautiful Eastern Oregon with her husband Bruce who is an avid sportsman and hunter.
His love of nature has inspired many of the artist's paintings.
The artist has painted with most mediums such as watercolor, oil, acrylic and Pastel.
She has painted landscapes, portraits, and animals. Her work has won over 45 awards over 45 years. She has Paintings in collections in England and Holland, Canada and Mexico.
The artist has taught workshops for the Nampa Art Guild, Caldwell Art Association, Purple Sage Creative Arts & the Crossroads Art Center. She currently teaches watercolor & Pastel classes at the Crossroads Art Center in Baker City, Oregon. The artist has been associated with the Paint & Draw Art School in Boise, Idaho, as Pastel instructor. She has served as past President of the Nampa Art Guild, and program chairman responsible for art education for the memberships. .The artist has also served as a show curator for Crossroads Art Center, Baker City, Oregon, & serves as Art Judge for the Baker County 4H Fair.
AWARDS
IDAHO CENTENNIAL JURIED SHOW 1997-BRONZE AWARD
IDAHO CENTENNIAL JURIED SHOW 1997 -5 PEOPLE'S CHOICE AWARDS
IDAHO CENTENNIAL JURIED SHOW 2001- JUDGES CHOICE AWARD
NUMEROUS 1ST, 2ND & 3RD PLACE AWARDS
Placed in RUNNER-UP status- 2014 ODFW CONSERVATION STAMP CONTEST
Entries accepted into 2015 Oregon Upland Game Bird & Waterfowl contests
Entry accepted into the 2016, 2017 & 2018 ODFW Conservation Stamp Art Contest
GALLERIES
Crossroads Carnegie Art Center & Gallery- 2020 Auburn Baker City, Oregon
Haines Steak House Hwy 30, Haines, Oregon
Wisdom House Gallery, Baker City, Oregon
Quail Crossing Studio & Gallery, Haines, Oregon
Artisan Gallery, Main St, Baker City, Oregon
Copper Belt Tasting Room Gallery, Baker City, Oregon
PRIVATE COLLECTORS
Home Federal Savings & Loan-Nampa, Idaho
The Coca Cola Company-Meridian, Idaho
Mr. Roland Smith PA -Nampa Idaho
Hayden Dental Group INC- Baker City, Oregon
Dr Scott Kido Dental Office-Nampa, Idaho
Mr. Bob Stevens, Muddy Creek, Haines, Oregon
Mr & Mrs. Tom Ludwig- Toledo, Oregon
Ms Laura Lee Turner, Post Falls, Idaho
Mr. George F Turner Jr. Hermiston, Oregon
Mr. Billy Neremberg, Cayuse Technologies Pendleton, Oregon
Mr. & Mrs. Jeff and Darcy Raymond, Baker City, Oregon
Jayson Clarke & Michele Johnson, Toledo, Oregon
Mrs. Terry Drever Gee, Baker City, Oregon