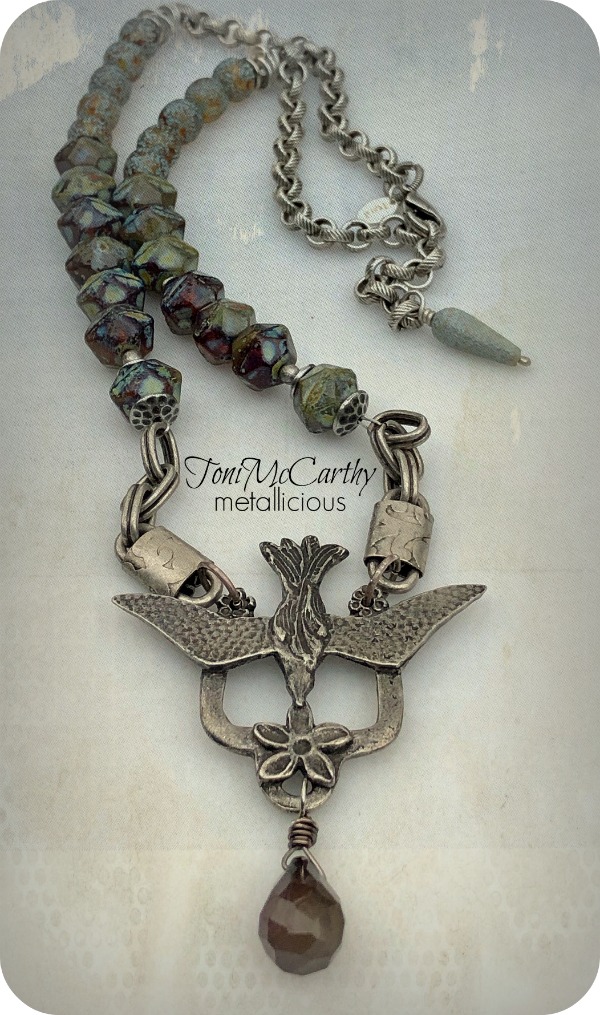 Apr 19, 2020
Toni McCarthy
I began my creative life as a child when I sewed doll clothes by hand and built my own scrabble set out of scraps. I've always wanted to make things—to sew, to build, to quilt, to paint—I wanted to do it all! So in college I minored in Art and continued my creative life. Even though my career was as an English teacher, my heart and soul were happiest when I made things with my hands.
I began creating jewelry and established my first design business in 1996. In August, 2005, I went into business with a friend, but beginning in 2013 I have been busy doing various arts and crafts shows alone, and my February-through-November calendar is full of traveling, and the whole year is devoted to designing new collections for my websites and the galleries that represent my work.
Many of my original designs have been published in Stringing magazine since 2009, and I have several pieces that have been included in the Interweave publication 101 Bracelets, Necklaces & Earrings for the 2012, 2013 and 2014 issues.
I have been adding tools to my studio/workshop, and my new favorites are a Smith torch which allows me to use enough heat to really change the appearance, shape, and beauty of various metals; a rolling mill to texture metal; and a metal shear to cut metal precisely. And my collection of hammers and pliers is enviable.
All the materials and components I use in my jewelry are of superior quality. My most recent endeavor has been into metals, and I have created a line called Molten Mojo. I gild and stamp hot metal onto various metal bases (some found or recycled) and create original elements for bracelets, necklaces, and earrings. I also do torch-work to design fused and reticulated metal objects using argentium and sterling silver, copper, and brass. Extensive wirework is also part of my work to connect elements and to design new pieces that work as embellishments.
Probably the best way to describe my overall presentation is ecelectic-style fun! I use materials bravely and with passion. I will try almost anything with metals, wire, old glass, leather, and found objects to see what I can learn from the experience. And adapting traditional techniques to new materials (like hand-knotting and macrame, for instance) inspires me to try new and exciting designs.
New projects happen almost daily, and if I could get away without sleep I'd be able to create a lot more. I'm a firm believer that every life needs a passionately creative outlet, and I know I've found mine.