21st Annual Art at the Crossroads Open Regional Show
September 6, 2019-September 28, 2019
Crossroads Carnegie Art Center invites you to the 21st Annual Open Regional Show "Art at the Crossroads," beginning Friday September 6th from 5:30-8:00pm! Join us First Friday to enter a drawing to win a $25 gift certificate from Chillz Frozen Yogurt and enjoy the musical talents of Joanne Fletcher. Art at the Crossroads will be available for viewing this eclectic body of work from September 6th through September 28th, Monday through Saturdays from 10am-5pm in the upstairs gallery of Crossroads. The community is also invited to join us Saturday at 10:00am for a discussion and critique with this year's judge, Kirsten Furlong. Art at the Crossroads is generously supported and sponsored by Ash Grove, The Northwest Pastel Society, and Baker City Blue Door Inn.
"We're expecting a wide range of interesting and new work from local and regional artists that patrons are sure to appreciate," states Crystal Rainwater, the new Community Art Director of Crossroads. "It's a chance for many artists to unveil their newest creations and it's a great opportunity for art admirers to come and see the variety of art that the area offers."
This year's judge, Crossroads has chosen the director of the Visual Art Center of Boise State University, Kirsten Furlong. Furlong was born in Milwaukee, WI and currently lives and works in Boise, ID. She received a BFA from the University of Nebraska and a MFA from Boise State University. Her work has been shown nationally and internationally in solo and group exhibitions and she has a forthcoming solo show at the Pendleton Center for the Arts in 2020. Experiences at artist residencies in Denali National Park in Alaska, Signal Fire and PLAYA in Oregon, Jentel and Brush Creek in Wyoming, Montello Foundation in the Great Basin of Nevada, Prairieside Outpost in Kansas, and Good Hart Artist Residency in Michigan have created the foundation for many recent projects. Kirsten is the director of the galleries and a lecturer in the Department of Art, Design, and Visual Studies at Boise State University, Boise, ID. In those roles she has curated and organized over one-hundred exhibitions and taught the capstone exhibition course for undergraduate art students.
Furlong creates images and objects about human, animal, and plant interactions in places where these relationships are defining the Anthropocene, the period during which human activity has been the dominant influence on climate and the environment. In the work, animals and plants serve as emblems of nature and as metaphors for human desires. Furlong is happy to be the judge for "Art at the Crossroads," and looks forward to working with our community. To learn more about Kirsten Furlong visit her website at https://kirstenfurlong.com or more about the Boise State Department of Art, Design, and Visual Studies: https://www.boisestate.edu/art/
Crossroads Carnegie Art Center always invites visitors to join us at 2020 Auburn Avenue in Baker City, Monday through Saturdays from 10am-5pm. For questions please call 541-523-5369 or email info@crossroads-arts.org for more information or to join our mailing list. And be sure to check out www.crossroads-arts.org to view our classes scheduled and upcoming events.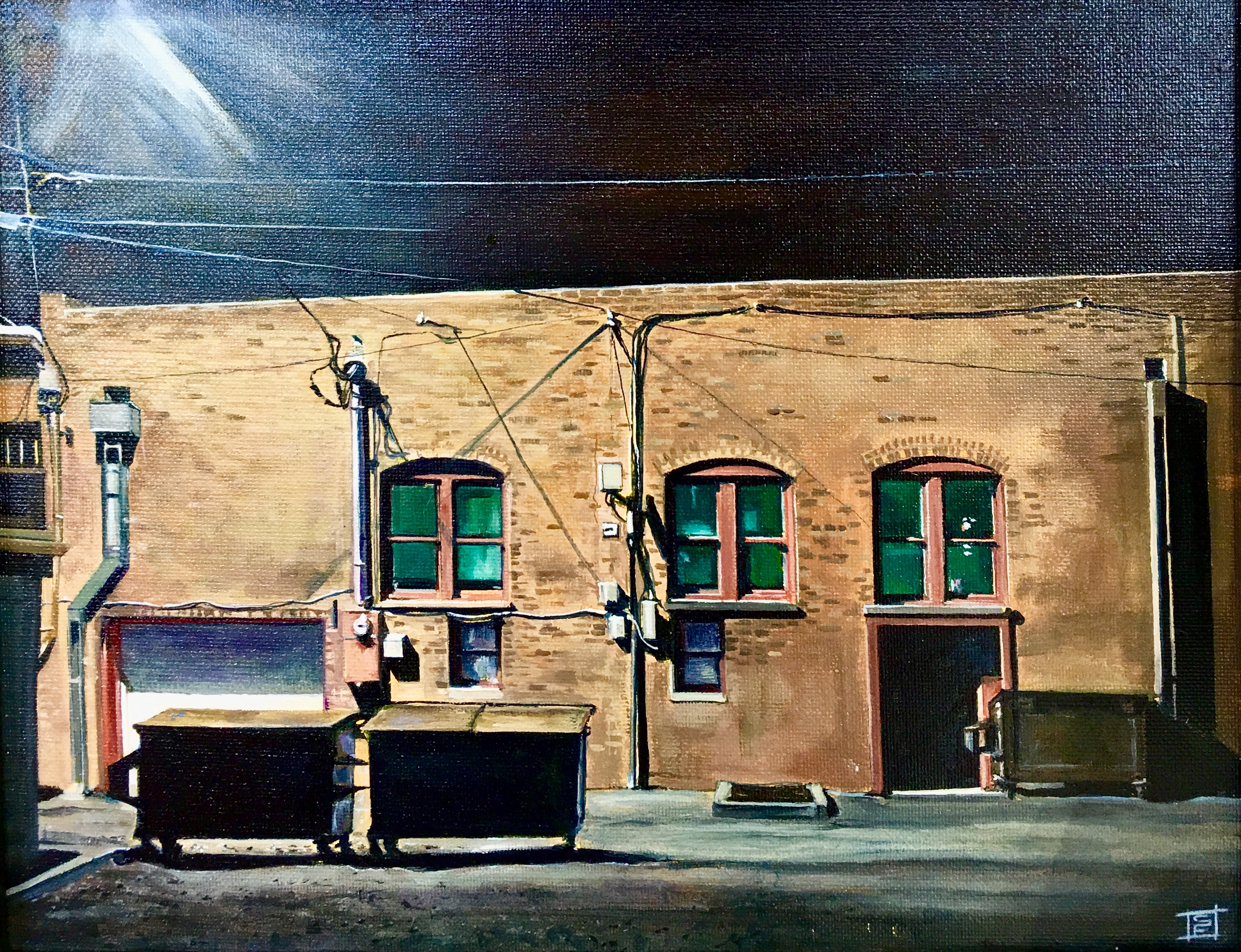 Sandra Ford, "Main & Valley Ally," Oil, Best of Show 2018