22nd Annual September Open Regional
September 4, 2020-September 26, 2020
Updated on May 18, 2020
Please keep in mind that with the pandemic of Covid-19 that certain items may change and updates will be given periodically. We appreciate and thank you for your patience.
22nd Annual Art at the Crossroads
General Information
We would like to invite you to show your artwork at the 22nd Annual Art at the Crossroads regional art exhibit. Crossroads is celebrating its 22nd Annual Art at the Crossroads Open Regional Show! Artwork will be accepted Tuesday, September 1, and the show will open on Friday, September 4, 2020. Monetary prizes and awards will be presented at the judge's discretion. A People's Choice award will be selected by the community and patrons who attend the opening reception and cast their vote before 8 in the evening. *Guidelines, procedures, and restrictions will be followed at that time due to the COVID-19 pandemic. Please await further recommendations from state and national guidelines at that time.
Entry Criteria & Rules
• Open to professional and amateur artists aged 18 and older.
• Each artist may submit a total of three (3) works of art that has not previously been shown at a Crossroads Open Show.
• Entry Fee per Artist: $20 for members and $25 for non-members.
• All items must be available for sale. This will be the norm for all open shows in the future.
• There is a 30% commission for Crossroads member artists and a 40% commission for non-members.
• Paintings must be dry and appropriately presented, mounted or framed, ready to hang with D-rings and wire attached. No saw tooth hangers will be accepted.
• Work submitted must be of original design, of high quality and to the best of artists' knowledge not violate any copyright laws.
• Work that is manufactured, imported, reproductions made from kits or under the supervision of an instructor will not be eligible.
• If artwork is over 50 lbs. or over 40"x40", please make arrangements with gallery two weeks prior to intake day. Please contact crystal@crossroads-arts.org to make arrangements.
• Work must be delivered upon specified intake day with entry fee and completed Exhibit Contract; forms can be found on our website or at the art center. See below.
• The Gallery Committee reserves the right to refuse any artwork which is inconsistent with the general quality of the exhibit.
• If there are more entries than space allows, it may be necessary to limit the number of works per artist shown.
• All artwork will be handled with reasonable care.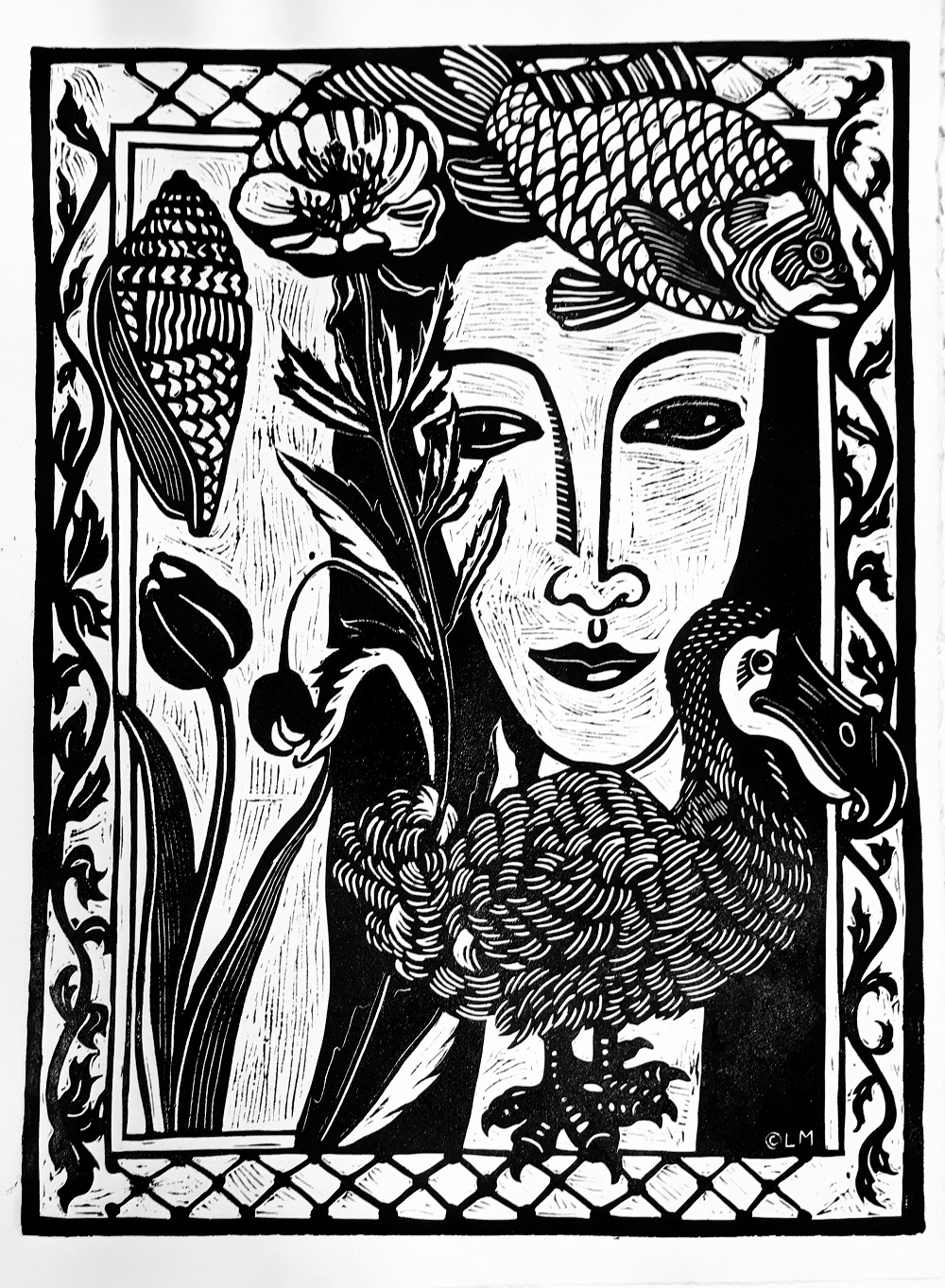 "Nature Girl," by Laurel Macdonald, linocut print, Best of Show 2019
Judge: Malcolm Phinney
Malcolm Phinney is a painter and sculptor living in Wallowa County often depicting the beautiful surroundings of his home. He and his wife Tami, own and operate the Phinney Gallery of Fine Art in Joseph, Oregon. For over two decades they have represented artists of the American Northwest, several of which are from the immediate area.
Malcolm's experience within the arts is diverse. As a gallery owner he has promoted and encouraged other artists in their careers but also has been recognized and awarded for his own art. Additionally, he is a designer, model maker and point up artist for private and corporate commissions, including designing architectural ornamentation for the Capitol Grounds in Washington, D.C. Other aspects of his diversity include judging shows, critiques, workshops and speaking at various events.

"A representational artist is very fortunate to live where the land is so diverse with mountains, canyons, deep forests and open prairies. This place is a painter's paradise."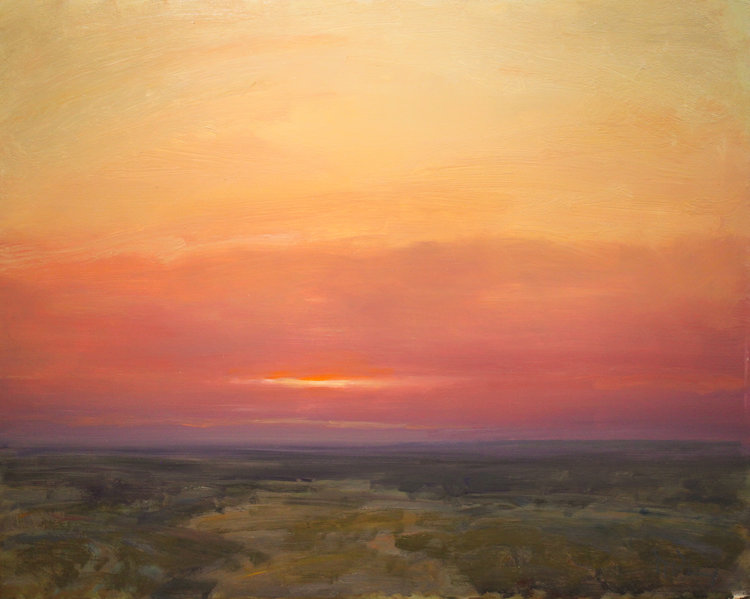 "Prairie Sunset," by Malcolm Phinney, oil, 24"x30"
2020 Art at the Crossroads Calendar
Tuesday, September 1, 2020
9:30am - 5:30pm
Deliver artwork to Crossroads with completed exhibit contract and entry. Unfortunately we are unable to accept
late entries.

Friday, September 4, 2020
5:30 - 8:00pm First Friday opening reception

Saturday, September 5, 2020
10:00am - 12:00pm
Meet Malcolm Phinney the show judge. Informal talk and critique in the gallery. This event is free and open to the public.

Saturday, September 26, 2020
5:00pm Close of the show

Monday, September 28, 2020
9:30am - 5:30pm Artists pick up unsold work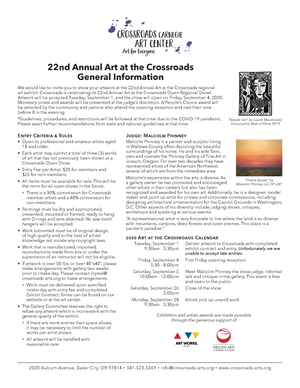 Printable Information of September Open Regional
Printable General Exhibit Contract