Christmas at Crossroads-The Gift of Art and The Ornament Expo
December 4th- December 23rd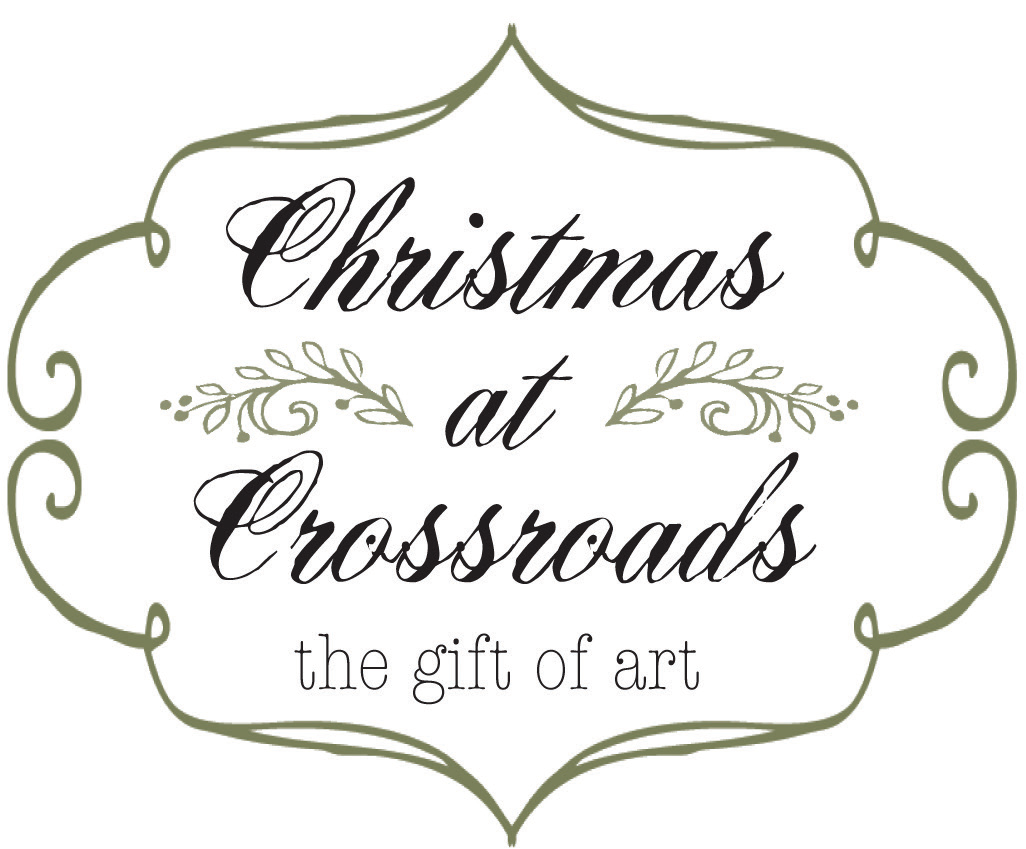 and the Ornament Expo
To start Shopping, Click Here!
For our complete Sales Gallery, Click Here!

General Information
You are invited as local and regional fine artists, designers and craft artists to show your artwork at our annual Christmas at Crossroads - The Gift of Art and our annual Ornament Expo. We are looking for fine art, fine crafts including clay, fiber, glass, wood, metal and mixed media, jewelry, small sculptural pieces, high quality local hand-crafted gifts, holiday cards and original tree ornaments.
This is a great opportunity to sell your artwork to a wider audience seeking unique, locally created artwork to purchase as gifts, it is a popular and memorable way to bring festivity to the holiday. We are looking for artwork which is priced in the $20 - $100 range. We will accept artwork outside of this range, but find work within this range sells best in our market.
Calendar Dates
Accepting Artwork:
Between Monday, October 19 and Tuesday, December 1, 2020
during business hours from 10:00am to 5:00pm
Monday, Wednesdays, Thursdays, and Fridays we will accept artwork and craft-work to be exhibited.

First Friday Reception for The Ornament Expo:
Friday, November 6, 2020
10:00am to 8:00pm

First Friday Reception for The Gift of Art:
Friday, December 4, 2020
10:00am to 8:00pm

Show Dates: December 4- December 24, 2020

Close of Show: Thursday, December 24, 2020

Pick-up Unsold Artwork:
Monday, December 28, 2020
9:30am to 5:30pm

Entry Criteria
• Christmas at Crossroads and the Ornament Expo is open to professional and amateur artists aged 18 and older.
• Paintings must be dry and appropriately presented, mounted or framed, ready to hang with D-rings and wire attached, including ornaments with appropriate hanging device. No saw tooth hangers will be accepted.
• Cards and reproductions (prints) should be appropriately covered individually in protective sleeves. Ornaments and other small items will need a tag of at least one inch to include name of artist, price, and extra room for Crossroads inventory.
• Work submitted must be of original design and of high quality and for sale.
• Work that is manufactured, imported, reproductions made from kits or under the supervision of an instructor is not eligible.
• Work should be to the best of artists' knowledge not violate any copyright laws.
• The Gallery Committee reserves the right to refuse any artwork which is inconsistent with the general quality of the exhibit.
• There is no entry fee for this show and all items must be available for sale. There is a 30% commission for Crossroads member artists and a 40% commission for non-members. It is the artist's responsibility to check inventory throughout the month as work sells and space becomes available; Christmas at Crossroads will accept inventory until December 14th.
• Due to space restrictions and depending on size, we may limit the number of pieces displayed per artist at one time.
• Reproduction prints either wrapped or quality framed
• Tree ornaments
• Card packs
• Individual Cards (We are accepting individual cards but they must be wrapped in protective sleeves for price tags)
• Original artwork
• Ceramic mugs and bowls etc.
• Jewelry
• Hand made items such as hats, scarves, gloves, etc.
• Soaps and Candles etc.

In light of COVID we believe families will choose smaller modest gifts that are easily shippable.

A Thought
In light of COVID-19 we are also asking artists to think of creative ideas that would involve potential one-on-one or small classes that could be safe activities. Such as wreath making, card making, or any ideas or crafts that would be good for social distancing. Class proposals and activities can begin as early as late September/early October to give plenty of time to complete before the holidays. If you are interested in teaching, please contact Cherie at cherie@crossroads-arts.org.
Printable Form of Call to Artists for The Gift of Art and The Ornament Expo